All kitchens are designed in close communication with the customer. We ensure that your preferences are taken into consideration. All our finishes are to the highest standard. Our small but hand-picked team of Suffolk based kitchen fitters are experienced and trusted.
Doors, profiles and panels are all hand painted to eliminate any complications associated with a vinyl wrapped product. You can rest assured that our team will design and install your kitchen from start to finish. This will include arranging electrical work, plumbing and tiling
"It all ended up being suprisingly easy. Floor 2 Ceiling came on time each and the whole thing was finished half a day before expected! The kitchen fitters were pretty fast too. Definitely recommended"
Fitting a new kitchen isn't simply a matter of throwing all the units up in the air and seeing where they land! There is an art to kitchen design. There are very much two sides to the installation of a kitchen, how it will function and how it will look. There is some amount of overlap regarding these two sides but they are certainly not the same.
A kitchen could look amazing but if the components are in the wrong places, and the units don't suit the owners uses and habits it will fail to please. If a kitchen is perfectly planned out but uses handles, colours and design that doesn't suit the room or building it simply won't be aesthetically pleasing.
Here we will deal with planning the function of your new kitchen.
First step is to try and identify facts about how you actually use your kitchen. Ask yourself a few questions like the ones below:
If 750ml to 1-litre bottles of wine, squash or water are a constant fixture in your household then a purpose-built unit option might be perfect. Usually, this unit is as simple as multiple cubby holes the width and height of a horizontally laid bottle. Look around your current stores and find out how many bottles of this size you have. These units can be supplied in many different sizes but usually, it's 6 or 12 bottles. At ground level, these units are easily accessible so watch out if you have small children that like to look for interesting things to grab onto and pull out.
Works great in tandem with the towel rail. Simply a spot between 2 units that you can stand up trays and/chopping boards while they aren't being used. It's a small touch but a nice extra if you're trying to keep a tidy and clear kitchen worktop while you're not cooking or preparing food.
---
Usually a metal tube set in between 2 units that you can hand a dishcloth on. The tube will be telescopic and can be pulled out to allow access to the cloth. Not a great place to allow a dishcloth to dry out so this might be a better place to store spare dry dishcloths ready to swap in when needed.
If cooking is a big deal for you then adding a fitted spice rack might be a good plan. A well-stocked and varied spice rack takes some of the guesswork out of creating your next culinary masterpiece and it looks nice too. There are, however, some points to consider before you take the plunge. Check your current selection of spices, count them and find out what size racks you can choose. If your cooking repertoire spans the world over you may not be able to squeeze your selection into the racks available. Also, spice rack units are for only those small glass spice jars, if you buy bigger spice containers you'll be out of luck.
---
These awesome inventions are becoming a staple in any modern kitchen now. They range widely in complexity and cost. Ultimately a corner carousel unit unlocks the space tucked in the corner of your kitchen units. Generally, when you open the door for the carousel unit a couple of trays, upper and lower, will spin out allowing access to the items that begin the motion out of reach. If you elect to save money and don't choose a carousel unit it's not the end of the world but you can expect to be stretching into dark corners to fumble around a bit to get what you need.
If you would like your bins hidden from view there are 2 paths. Bins can be mounted on runners in a unit that slide out when needed, or they can be attached to the inside of a unit door. You might need to think about the types of waste that you generate and what is collected in your area. A bin for landfill waste and one for recycling would probably be a bare minimum. Some councils collect numerous waste types so you may need more. A bin for glass collection may be well advised if your house goes through a sizable quantity of jam, wine, or beer!
---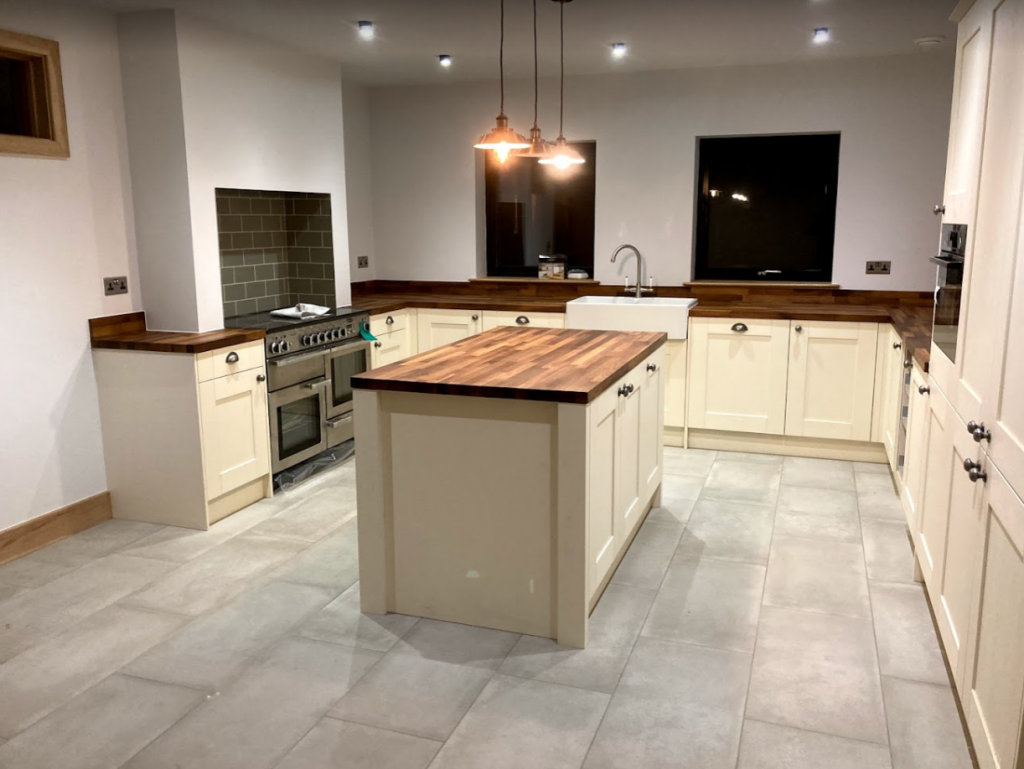 What's a normal kitchen fit process like?
It all starts with a careful planning phase.
First meeting with kitchen fitters

We'll meet at the kitchen location and work out what exactly you are looking for in your new install.

Our input

Our kitchen fitters have years of experience, we'll suggest a plan. This will include ideas and enhancements that we can bring to the table.

Formal planning

We'll come up with a drawn plan of the planned final product which will consider the first draft. Adjustments will be made based on your feedback and further suggestions from Floor 2 Ceiling Carpentry.

Final design

The previous stage may last some time but should culminate in a final plan. All parties will sign off on the plan and negotiate a final price to match.

Hold the date

Alongside the final agreement we will agree on the start-date and timescales. Every endeavour is always made to stick to the timeline but nasty suprises are always a possibility. Some leeway is sometimes necessary.
With Planning Complete Lets Get Underway
Losing your kitchen temporarily is never a fun experience.
Our kitchen fitters know that speedy and efficient install is in all our interests!
---
Stop the flow

First things first. We will be halting the water supply as an initial step so we can make a start on the pipework. We will try to organise this for minimum impact on your day to day.

Removal

This bit always seems to happen fast. We will remove everything that needs to go from the current kitchen including storage and electrical. Then comes any excess pipes and cabling followed by the removal and/or moving of walls, windows, doors, etc.

New beginnings

Now that we have a blank slate to work with we will start to fit extra electrics and plumbing that is required. This is done in conjuction with any plastering and flooring. Now the background is set for the kitchen.

The fit

Now the kitchen proper can be fitted. Base and wall units. Tops, fitted items and sinks to follow.

Details

We complete the process with the final important details such as splashback tiling, panelling and cornice/pelmets.
For sersiously professional high-tech look you can't beat stainless steel. You'll have your family calling you "Chef!" in no time.

Reliable, with great lines and drawers and storage that will last.


It doesn't get much more hard-wearing than concrete. With a highly polished finished it can take on the appearance of granite, but it is more customisable.

A striking centrepiece everytime.


For a kitchen for life granite is a great choice. Almost impossible to damage and impervious to heat. A top-class look for a big kitchen.

Great surfaces to prepare food on and really easy to clean.


The most original and rustic of worktops. A living, breathing partner in the kitchen's life. Wood and colour can be matched to the surroundings.

Anti-bacterial and easily repaired.


Easy to mould to do what you need. Surprisingly strong if you fit the correct thickness for the job. Easy job to keep clean.

Different patterns can be put on the glass for an array of looks.


Super customisable worktop option. Many colour options and extremely strong.
Ignore the stigma attached to plastic, there are eco friendly versions now. A new trend that's here to stay.


Contact us now. Ask anything about your requirements. We will travel to towns and villages around Suffolk, Essex and Norfolk. We have customers in places such as Stowmarket, Ipswich, Bury St Edmunds, Felixstowe and Colchester.
---
Contact Us